Our staff's commitment to you
Our staff is committed to providing support, compassion, information, and direction as needed to all members of our community, their families, and friends who are dealing with loss and grief.
Stephen Meyers
Owner
I grew up in Delmar, graduated from Bethlehem High School. received my B.S. degree from Eastern New Mexico University. I received my funeral director license from Simmons Mortuary School, Syracuse, NY. I have been in the funeral business since 1991 (officially) but grew up living at the funeral home; so I have actually grown up in the business. I'm a member of Bethlehem Lutheran Church and numerous organizations.
Ben Meyers
Owner
I'm 81 years old and have been in the business since 1963. I was born and raised in Delmar and Coeymans Hollow, NY. I always wanted to go into the funeral business and opened Meyers Funeral Home in 1968. I am agraduate of Lincoln College, Lincoln Ill. (1960) and Parsons College in, Iowa (1962) (now Iowa State at Ames, Iowa.) member of Delmar Reformed Church and belong to numerous orgainzation (too many to mention.) I am also a graduate of Simmons School of Embalming & Morturary Science , Syracuse, NY. I have been trying to retire but find I enjoy being active in the funeral business. My son does the majority of work now and tries to avoid my interference.
Meyers Funeral Home Ltd.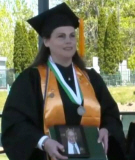 Jennifer Ann McKeon
NY State Registered Resident
mckeonjennifer9@gmail.com
Jennifer grew up in Greene County NY spending the majority of her life in Coxsackie NY. She has 3 grown children and 3 grandchildren that are the apple of her eye. Jennifer married the love of her life, and Soulmate, in 2012. She enjoys spending time with her family, horseback riding, vacations, and VEGAS. She held the position of President of the D.M. Hamilton Steamer Company # 2 for two years. She moved to Freehold NY in 2019. Through life's trials and tribulations, Jennifer returned to school at the age of 44 to pursue her career as a funeral director, graduating from Hudson Valley Community College with Phi Theta Kappa Honors. Jennifer began her official residency at a local Greene County funeral home in August of 2021, after the passing of her Boss and Funeral Director legacy Richard E Vigilo Jennifer joined Meyers funeral home to finish out her education and will become a licensed funeral director in May of 2022 after she completes the law exam. She is a compassionate lady and has a warm welcoming smile and we are delighted to have her with us at Meyers Funeral Home.